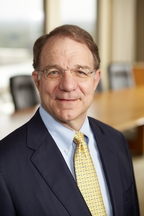 C. Edward Dobbs, Esq.
Attorney
Current Position
Partner
Parker Hudson Rainer & Dobbs
Atlanta, GA 30308
USA

Class: IV (1993)

Circuit: Eleventh
Education
Davidson College (1971)
Vanderbilt University School of Law, Order of the Coif (1974)
Articles Editor, Vanderbilt Law Review
Professional Career
Former Associate and Partner, Kutak Rock & Huie (1974-1983)
Affiliations
Atlanta Bar Association, Bankruptcy Law Section
State Bar of Georgia, Past Chair (1978), Bankruptcy Law Section
Georgia Bar Foundation, Fellow
American Bar Foundation, Fellow
American College of Commercial Finance Attorneys, President (1996-98); Fellow (1991-)
Emory Law School, Adjunct Professor (1987-92)
, Southeastern Bankruptcy Law Institute: Former President and Chair of the Board; Board member (1978-)
, American Bar Association: Past Chair, Young Lawyers Division (1980-81); Commercial Financial Services Committee (Past Chair, Syndications and Loan Participation Subcommittee)
American Arbitration Association, Panel Member for complex commercial mediations and arbitrations
Association of Certified Turnaround Professionals, Former Faculty Member
, Turnaround Management Association, Atlanta Chapter: President (2007-09); Director (2001-09)
CFA Education Foundation, Board
American College of Civil Trial Mediators, Fellow (2019-)
Publications
Reorganization Under Chapter 11 of the Bankruptcy Code Harrison Co. 1979
"Debt Subordinations," in Asset Based Lending by H. Ruda, Matthew Bender 1984
Enforcement of Security Interest in Personal Property-The Law in Georgia Harrison 1978
"Dealing with Emotions in the Resolution of Business Disputes," in The Review of Securities and Commodities Regulation November 2019
"Lawyer Ethics in Settlement Negotiations," in ABI Journal September 2017
"Enforcement of Article 9 Security Interests-Why So Much Deference to the Junior Secured Party?" 28 Loyola of Los Angeles Law Review 131 1994
"Negotiating Points in Second Lien Financing Transactions," 4 DePaul & Commercial Law Journal 189 2006
"Georgia Commercial Lending Law," in Commercial Lending Law: A State-by-State Guide, (ABA 2009) Co-author and Editor
"Georgia State Law of Guaranties," in The Law of Guarantees (ABA 2013) Co-author and Editor
"Bankruptcy Law Changes Will Affect Business Cases Too: The Bankruptcy Abuse Prevention and Consumer Act of 2005," 1 Georgia Bar Journal 32 2005 Co-author
"Negotiating and Documenting a 'Defensive' Debtor-in-Possession Financing," in The Review of Banking & Financial Services 2003
"Bankruptcy Preference Concerns in Industrial Development Bond Financing," 84 W. Va. Law Review 573 1982 Co-author
Numerous law review articles and frequent lecturer on bankruptcy and UCC subjects.
Awards
Atlanta Bar Bankruptcy Section, Recipient of David Pollard Lifetime Achievement Award (2012)