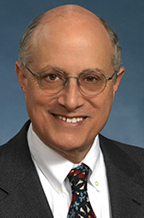 David A. Lander, Esq.
Attorney
Current Position
Saint Louis University Law School
100 North Tucker Blvd
St. Louis, MO 63101
USA

Tel: 314-750-7773
Email: landerd@slu.edu

Class: II (1991)

Circuit: Eighth
Education
Bowdoin College, B.A., cum laude (1966)
University of Chicago, J.D. (1969)

Professional Career
Executive Director, Legal Service of Eastern Missouri (1975-80)
Assistant Professor of Law (1972-75); Adjunct Professor (1988-), St. Louis University Law School

Affiliations
Federal Judicial Center, Committee of Bankruptcy Education
American Law Institute Study Committee on Article 9
Advisory Committee on Bankruptcy Rules
National Bankruptcy Conference
American College of Commercial Finance

Publications
Articles published in American Bankruptcy Law Journal, Asset Based Lending, Business Workouts Manual, St. Louis University Law Journal, University of Kansas Law Review and numerous other publications.