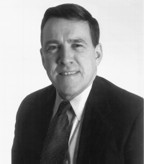 Paul Patrick Daley, Esq.
Attorney
Current Position
Retired Partner
Wilmer Cutler Pickering Hale and Dorr LLP
Boston, MA 02109
USA

Class: I (1990)

Circuit: First
Education
Boston College, A.B. (1963)
Harvard Law School, J.D. (1973)
Harvard Business School, M.B.A. (1973)
Admitted to Massachusetts Bar
Admitted to New York Bar
Admitted to 1st, 2nd and 5th Circuit Courts of Appeal
Admitted to U.S. Supreme Court
Professional Career
Captain USNR (Ret.) Vietnam, Awards: Distinguished Flying Cross; 16 Air Medals; Navy Commendation Medal with Combat V Vietnamese Air Gallantry Cross with Gold Star; Vietnam Service Ribbon with 3 Bronze Stars (1965-67); parachute wings from Army Airborne School, Fort Benning
Lecturer CLE Programs for PLI, ABI, ABA, BBA, MBA, and MCLE
Trustee (1985-03); Chair (1994-03), Massachusetts School of Professional Psychology
Trustee (1996-); President (2000-02); Chair (2002-04), Naval War College Foundation
Associate Editor, Massachusetts Law Review (1998-)
Legal Fee Arbitration Board of the Massachusetts Bar Association (1998-)
Fellow, American Bar Foundation (2007-)
Trustee, American College of Bankruptcy Foundation (2010-)
Affiliations
American Bar Association
Massachusetts Bar Association: Former Chair, Business Bankruptcy Committee; CLE; Arbitration Board
American College of Bankruptcy (inaugural class, 1990)
Boston Bar Association, Council (1979-82)
American Bankruptcy Institute
Commercial Law League
U.S. Naval Institute
Association of the U.S. Navy
Tailhook Association
Association of Naval Aviation
U.S. Navy League
Wardroom Club, Governor and Treasurer (2006-09)
American Sail Training Association, Newport, Rhode Island, Director (1975-80)
St. Sebastians School, Trustee (1981-82)
Publications
"Bankruptcy, Organizing and Dissolving a Massachusetts Business," (M. Mooney et al eds.), MCLE 2008/Supp. 2011 Daley and Notini
"Intercreditor Terms Between 1st and 2nd Lien Lenders," Portfolio Media Inc., Law 360, http://bankruptcy.law.com/print_article/176034 Jun 23, 2010 Daley and Millar
"Bankruptcy Court Jurisdiction," 3 De Paul Business and Commercial Law Journal Spring, 2005 Daley and Shuster
"Basic Provisions of United Kingdom and German Insolvency Law," American Bankruptcy Institute's Northeast Bankruptcy Conference 2004 Daley and Shuster
"The Difference Venue Makes," Massachusetts Bar Association's Recent Developments in Bankruptcy Law 2002 Daley and Shuster
"Avoiding Officer and Director Liability in Insolvency," Massachusetts Bar Associaiton's Recent Developments in Bankruptcy Law 2001 Daley
"Defenses to Assumption and Assignment of Executory Contracts Under Section 365," Massachusetts Bar Association's Recent Developments in Bankruptcy Law 2000 Daley and Shuster
"GOB Sales and Other Asset Dispositions in Chapter 11," Massachusetts Bar Association's Recent Developments in Bankruptcy Law 1999 Daley and Appelbaum
"The Modernization of Massachusetts Fraudulent Conveyance Law: The Adoption of the Uniform Fraudulent Transfer Act," Massachusetts Law Review Spring, 1998 Daley and Appelbaum
"Bankruptcy," Massachusetts Business Lawyering (S. Keller et al.) eds. MCLE 1991/Sup. 1998 Daley and Notini
"Channeling Injunctions: New Weapons for Debtor's Counsel," Law Education Institute, Inc. and The Bureau of National Affairs, Inc. National CLE Conference 1996 Daley and Paulson
"Recent Developments in Preference and Fraudulent Conveyance Law," Massachusetts Continuing Legal Education's Bankruptcy Update '94 1994 Daley and Kimball
"Corporate Governance Issues in Chapter 11 Cases," American Bankruptcy Institute's Northeast Bankruptcy Conference 1994 Daley, Normandin and Gitlin
"The Role of the Trustee in Securitization Transactions" Asset-Backed and Mortgage-Backed Securities R. Borod, ed., 1991 Daley and Miolla
"The Effect of Bankruptcy on Foreclosure in Massachusetts," Massachusetts Mortgage Foreclosures 1985; 1987-91 Daley
"Health Care Bankruptcy," Massachusetts Continuing Legal Education's 6th Annual New England Bankruptcy Law Conference 1990 Daley and Normandin
"FIRREA and the Bankruptcy Code," Massachusetts Bar Association's Recent Developments in Bankruptcy and Commercial Law 1990 Daley and Notini
"Uniform Commercial Code and Secured Lending- American Practice," Business Reorganisation- A Balancing of Interests (Financial Times Conference, London, 1982) Daley
Frequent lecturer on bankruptcy and commercial topics.
Awards
Massachusetts School of Professional Psychology, D.H.L (Hon.) (2003)
Naifeh & Smith's Best Lawyers in America (all editions)
Chambers USA America's Leading Lawyers in Business (all editions)
Martindale and Hubbell AV
Massachusetts SuperLawyers (2004-12)
Cross-Border Restructuring and Insolvency, published by Practical Law Company, (2006-12 editions)
Euromoney 2004 Guide to World's Leading Insolvency and Restructuring Lawyers, published by Legal Media Group (6th ed.)
Marquis Who's Who in America (1993-13 editions)
"Which Lawyer?" Yearbook, published by Practical Law Company (2008 edition)