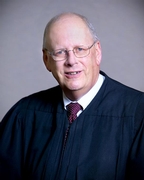 Hon. Paul W. Bonapfel
United States Bankruptcy Judge
Current Position
U.S. Bankruptcy Court
Atlanta, GA 30303-3367
USA

Tel: 404-215-1018
Fax: 404-215-1114

Class: XX (2009)

Circuit: Eleventh
Education
Florida State University, B.A. cum laude (1972)
University of Georgia School of Law, J.D. magna cum laude (1975)
Professional Career
U.S. Bankruptcy Judge, Northern District of Georgia (2002-)
Associate and Member, Lamberth, Bonapfel, Cifelli & Stokes, P.A., f/k/a Cotton, White & Palmer, P.A., n/k/a Lamberth, Cifelli, Stokes, Ellis & Nason, P.A. (1980-02)
Associate, Nicholson, Meals & McLaughlin (1977-80)
Law Clerk, Hon. Wilbur D. Owens, Jr., U.S. Judge, Middle District of Georgia (1975-77)
Affiliations
State Bar of Georgia
American Bar Association
National Conference of Bankruptcy Judges
American Bankruptcy Institute
Southeastern Bankruptcy Law Institute, Chair (1993-94); President (1992-93); Officer (1990-92); Director (1988-02)
Bankruptcy Law Section, Atlanta Bar Association, Chair (1988-89); Officer (1984-88)
Bankruptcy Law Section, State Bar of Georgia, Chair (1989-90); Officer (1985-89)
Publications
Chapter 13 Practice and Procedure Thomson/West Co-author
"Individual Chapter 11 Cases Under BAPCPA," 25 Amer. Bankr. Inst. J., No. 6,1 Jul/Aug 2006 Author
"Practice in the Grand Style" and "Officers of the Court," 3 part series at 8 Ga. Bar J., No. 5, 63 (Apr 2003), 8 Ga. Bar J., No. 6, 83 (Jun 2003), and 9 Ga. Bar J., No. 1, 70 (Aug 2003) Author
"Minority Challenges to At Large Elections: The Dilution Problem," 10 Ga. L. Rev. 353 1976 Author
"The Legal Nature of Public Purpose Authorities: Governmental, Private or Neither?" 7 Ga. L. Rev. 680 1974 Author
Frequent lecturer at continuing legal education programs and author of related course materials.
Awards
Recipient of David W. Pollard Achievement Award, presented annually by the Bankruptcy Section of the Atlanta Bar Association to a lawyer exhibiting high standards of professionalism and ethics in the bankruptcy practice, June 2000.