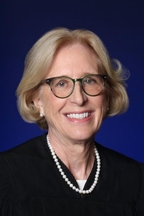 Hon. Roberta A. Colton, Esq.
Judge
Current Position
United States Bankruptcy Court
Middle District of Florida
Tampa, FL 33602
USA

Class: XII (2001)

Circuit: Eleventh
Education
University of Virginia, B.S., Beta Gamma Sigma (1979)
College of William and Mary, J.D., Law Review (1982)
National Moot Court Finalist
Weber Diploma Recipient
Professional Career
Shareholder, Trenam, Kemker, Scharf, Barkin, Frye, O'Neill & Mullis, P.A. (1988-)
Associate, Trenam, Simmons, Kemker, Scharf, Barkin, Frye & O'Neill, P.A. (1983-88)
Law Clerk to Hon. James C. Hill, U.S. Court of Appeals for the Eleventh Circuit (1982-83)
Affiliations
American Bar Association (1983-)
American Bankruptcy Institute (1989-)
The Commercial Bar Association (London) (Honorary Overseas Member) (1997-)
Florida Bar Association (1983-)
Tampa Bay Bankruptcy Bar Association (1989-), President (1995-96)
Florida Bar (1988-), Chair, Executive Council of the Business Law Section (1997-98)
U.S. Bankruptcy Court, Middle District of Florida: Mediation Committee (1989-); Local Rules Committee (2000-); Grievance Committee (2000-)
Publications
"Chapter 4, Prejudgment Remedies for Unsecured Creditors," Creditors' and Debtors' Practice in Florida, 1994 Contributing Editor updated biennially
"Confidentiality Issues in Bankruptcy Mediation," Norton Bankruptcy Adviser Jul 1993 Contributing Editor
"Chapter 6, Litigating Commercial Cases in Bankruptcy Court," Business Litigation in Florida 1989, updated biannually Contributing Editor
Lecturer and author for bar and other associations.
Awards
Listed in Best Lawyers in America, (1995-)